~I am looking for roller skates for a project I am working on....who knew that roller skates were so expensive? I honestly thought I would be able to find some cheap skates for $10 or $12, but that is apparently not the case....it is more like $40 or $129.99? Who is paying that much for roller skates?
~Thomas has this strongly held belief....if he watches Spanish television, he will learn Spanish. Even though he doesn't know any Spanish, he is convinced that he will magically pick it up after enough Spanish television viewing. So the other day, he is flipping through channels and stops on a Spanish station...There he is with Katarina watching a Spanish show. He tells her, "You can learn a lot by watching this" I looked up at the tv and said, "Considering this is a soap opera, she probably could, but I don't know if that is a good thing or not." And thus ended our foreign language lesson for the day!
~Have you heard about
Jaden
, the sweet little boy who is fighting cancer? Well, if you are looking for some toothpaste (and honestly, shouldn't we all be buying toothpaste?) you can pick it up from Tooth Soap and they will donate a percentage of the proceeds to his family.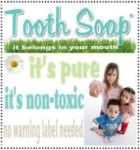 ~Do you want to learn how to crochet? Check out
Hookin' for a Cause
(how great is that name?) Every Saturday at 3pm EST you can sit in on a free crochet lesson. Each week's lesson is saved, so you can get caught up on what you miss. It is a great time with some great folks, and you get to learn a new skill....for free! You can't beat that!
~This is a special moment for my mom....I saw this sign on the side of the road the other night....
It is blurry (I was taking the picture out of a moving car at night) so it says "Face off for a cause".....Now, if my mom doesn't call me laughing hilariously, I'll know she isn't really reading my blog! xoxo Mom-I love ya!
~I saw this
Kotex commercial at Misadventures of Mel
, and it is hilarious. It expresses all the thoughts I have ever had about tampon and pad commercials!
~Are you an abuse survivor? There is still time to sign up for the
2nd Annual Army of Angels Conference - Be Your Own Hero
It is going to be an amazing time of joy, inspiration, great speakers and much more! I can hardly wait for October to arrive!
Friday's are a great day to pull it all together! Take all the fragments from the week and sort them out, make them work for you.....turn them into a blog post! They are also a great day to find some new blogs to follow...