The Backstreet Boys?? What?
Here is the set up! My husband, Thomas, is a music lover. Long before we knew each other, he discovered this group that he just thought was
so cool
...the Backstreet Boys. This is a point of contention because I have one story that I tell whenever I hear someone mention them. When they first came out I remember sitting in my friend's car and listening to this song that kept saying "Backstreet's back...alright!" and all I could think was, "Back? Back from where? This is your first time here. Where are you back from?" and they were forever put in the category of my mind where I place silly music groups and then ignore them.
What I meant to say about that is....that song should have been reserved for a "ten years later comeback" album. Really. Wait until you have left and gone somewhere for a long time before you announce to me that you are back.
Also, I can't tell them apart form N*Sync. I just can't. They are the same....a bunch of guys who sing and do choreographed dance moves....and come back from....somewhere. I made the mistake of telling this story to Thomas one day years ago and he was very sad. He keeps trying to explain to me how they are so different, and the Backstreet Boys are real musicians, and how they are awesome, and he is convinced that I just haven't really heard them. That is the set up.
This morning I was taking a short nap, and Thomas called me from the laundry mat to tell me to turn on the tv because the Backstreet Boys were on! -At this point I would have been annoyed, but how can you be annoyed at your man when he is doing the laundry for you?
You just can't get annoyed in that moment, so what I meant to say about that is...Thanks for rocking the laundry Thomas!
So I turned the tv on and watched this.......
I really wish I had a recording of Thomas on the phone explaining to me how awesome they are right then, but I don't...but this is the highlight of the conversation. I am trying to be nice and not crack jokes about how they are back from somewhere (because the man is doing the laundry y'all!
The Laundry!
) but the moment came where I had to say something. They did the thing where they are singing along and then randomly point the microphone at the audience and say "let me hear you sing it" and then the audience sings a bit while the guys on stage stay quiet. That drives me crazy! Why do musicians do that? I don't want to hear the audience sing! So I point this out to Thomas and he agrees with me and tells me that he bought some group's live album (I don't remember who it was....I was napping, my brain wasn't fully functional) and when you listen to the cd they do that several times and Thomas said that he always wants to say to a band that does that......
I want to hear you sing the song, not the audience! I know what other people sound like because I hear them all day when I sit in traffic!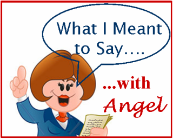 Do you have anything that you meant to say this week, but didn't? Angel wants to hear all about it! She bought WIMTS from Chief to benefit Mission Monkey-how cool is that? So go show her some love and play along. It is fun!!