This weekend, we had a visitor come by our home.
He stopped by the door and waited.
No loud knocking for him; he just waited for us to come out and find him.
Then he stayed there patiently while I grabbed my camera and got a couple of shots.
When I was done, he quietly flew away.
I have really enjoyed participating in the Happiness Project. Looking for moments of joy and capturing them with my camera to share with y'all. Today, Leigh is starting the second year of the Happiness Project with a new name, 52 Weeks of Happiness.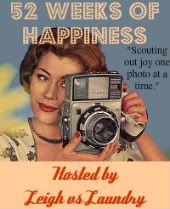 What is making you happy today?