This is Professor Hoppy. He specializes in math.
(also he is wearing a cape - because math professor frogs can be super heroes)
I walked by Katarina's bed last night and found him sitting there, calculating.
This is Katarina. She specializes in drawing and writing
(as Hoppy looks on with approval)
Katarina got these black, plastic frames in a kids meal, and she loves them. Every few days I find some different stuffed animal wearing them. When the animals aren't wearing them, Katarina is - she wears them to write and draw, she wears them to read, and she even wore them to the grocery store. Katarina loves these glasses.
Super hero-math professor frogs and a pair of fake glasses that inspire imagination, giggles, and fun...that is happiness.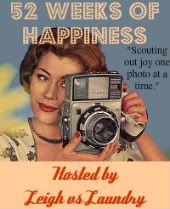 What is making you happy today?