We don't do food fights at our house, but last night we had a huge baby powder battle. In the future I will think twice before I mercilessly tease Thomas when he is holding a full container of powder, because this is what happens:
There was so much powder in the air, the camera picked it up,
and this was after I ran outside to get away from the powder-clouded room.
By the end of the night, everything was covered in powder - but we were all laughing too hard to clean it up. That makes me happy.
Now, you will have to excuse me, because I need to go vacuum (
again!
), and wash my hair (
again!
).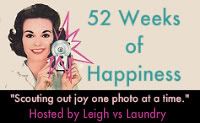 What is making you happy today?