The first time I saw the moon during the day, I was sure that it was a secret message just for me. It was a particularly awful game of T-ball, and I was four years old. I had already missed the ball twice while batting (even with it sitting still on the little stand), ducked when it flew toward my face instead of catching it, and been yelled at by the coach and every member of my team.
Standing out in the field with tears streaming down my face, hoping and praying that the ball would stay far away from me, I looked up and saw the moon. Who could be upset by a little ball game when the moon was making an appearance during the day? It was magic.
I eventually learned that is is completely normal for the
moon to make a daytime appearance
. But even with that knowledge, when I look up on a bright day and see the moon shining down on me, I feel a little bit of that magic.
I am not a T-Ball champion, but the moon loves me, and that makes me happy.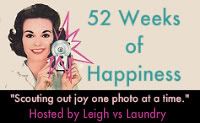 What is making you happy today?