We went to a friend's house last week, and she let Katarina make spaghetti for dinner. It was great fun, as Katarina dearly desires to cook.
And it was very yummy, too!
Happiness is a home cooked meal, and getting to see the proud look on your daughter's face when everyone sits down at the table to eat
her
dinner.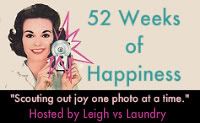 What is making you happy today?