The Blog Carnival Against Child Abuse is a monthly event. Its purpose is to raise awareness about the serious issue of child abuse. All forms of abuse (physical, emotional, sexual, spiritual, verbal) are discussed.
Welcome to the Blog Against Child Abuse - April 2013 Edition!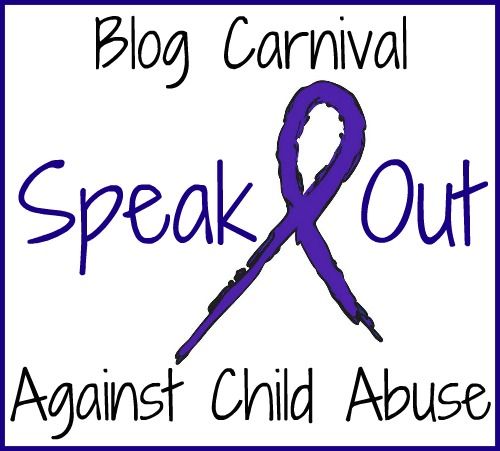 Advocacy & Awareness:
-
Tammi
from If You Could See What I See submitted
Dear Kid (At Whatever Age)
This is a powerful letter to a child living in an abusive home.
"Please know there are others who made it. You can make it, too."
-
Kate
from Kate Is Rising submitted
Finding Balance When Off-Kilter
She wrote: Finding balance in my life and in my healing work has been a challenge. There are so many dramas, upsets, and triggers in life. I have found that it is important to address those as they come up, but to also find other things in life that provide the good and positive to off-set the negative and to keep doing them. We all deserve the good.
-
Jendi
from Reiter's Block submitted
National Child Abuse Prevention Month: Why It's Personal
Jendi realized she was an emotional incest survivor, and found its connection to her activism.
Aftermath:
-
Colleen
from Thoughts on Grace submitted
The Face of A Survivor
She wrote: My sister is going through a rough time and I wanted people to see what it is to be a survivor years after the sexual abuse stopped. I think when we tell our personal stories, we become more real to others.
Healing & Therapy:
-
Mike
from Child Abuse Survivors submitted
Is Healing Really Possible?
Mike has noticed a lot of talk on social media challenging the thought that survivors can ever really heal. This is his response. I love it.
-
Middle State
submitted
Close To Home
She wrote: I've had this post gathering dust for awhile. April seems like a good month to publish.
A Google search revealed that a bad doctor from her past lives near her, and spurred thoughts about protecting her own children.
-
Kate
from Kate Is Rising submitted
I Have These Rights
She wrote: I think a large part of my healing involves learning what is functional and acceptable behavior, and learning how to advocate for myself and my own rights. It's so much easier to care and give to others than it is to care and give to ourselves the rights that we deserve. This post was a recent affirmation of my rights, including several lists of rights that are good to use as reminders when others over-run our boundaries and rights.
-
David Pittman
from Together We Heal submitted
When It Comes To Love, 3 Is The Magic Number
David shares some insights into the loving relationship he observed in his grandparent's marriage.
The Blog Carnival Against Child Abuse provides an opportunity to raise awareness about the serious issue of child abuse and to share important posts with others who might not be frequent readers of an author's blog. There are so many wonderful bloggers who are contributing to the cause of ending and recovering from child abuse. If you, as a reader or author, know of other blogs that you find helpful, please encourage them to submit to an upcoming issue of the Blog Carnival Against Child Abuse so we can continue to receive high quality submissions from a wide swath of bloggers.
Many thanks to all of you who shared your hearts and stories with us, and to all of you who read the submissions and show your support. You keep this carnival, the awareness, support, and healing going each month.
To provide another way for you to stay in contact with the blog carnival, and make sure you don't miss any updates, we have a
Blog Carnival Against Child Abuse Facebook Page
.
Thank you for raising your voice and speaking out against child abuse!