The time has arrived to dust off those awesome old blog posts.
Adrienne
and I are super excited to read them.
We all have old blog posts from our early blogging days that just didn't get the attention we'd hoped for, and Going Green is their new home.
Why let those great posts go to waste? Now you have a place to share them.
How can you make an old post better? It's as easy as 1-2-3!
1. Add a pinnable image.
2. Clean it up with a nice edit.
3. Check your word count.
Link up your post. Visit the other recyclers, so everyone's posts get the attention they deserve.
Grab our button to let others know where to find us.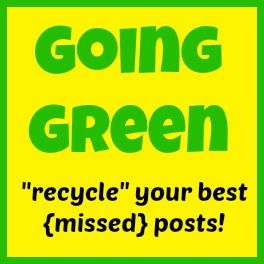 You can find us on Twitter at @themommymess and @fromtracie, and be sure to follow hashtag #GoingGreen to stay up to date with your fellow recycling crew!