We all have blog posts that did not get the attention we would have hoped, especially in the early years of our blogging. A lot of those posts are not only good stories and good writing, they are still relevant today. All they need is a little push, and some new eyes.
Adrienne from The Mommy Mess
and I want to see your best old posts. On Monday, Going Green returns, and I am excited to co-host it with Adrienne!
Dust off an old post that you loved - you can freshen it up with a pinnable picture, do a light edit, or leave it as it is.
Come back on Monday, and link it up. Be sure to visit others and get those posts the attention they deserve.
Follow us on Twitter at
@themommymess
and
@fromtracie
, and be sure to follow hashtag
#GoingGreen
to stay up to date with your fellow recyclers.
Grab our button for your post to let others know where to find us.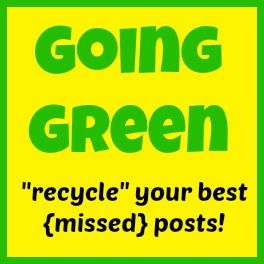 We can not wait to read the great posts the blog world missed!