It is never too late to go back and optimize your old blog posts - for SEO,
for Pinterest
, for better readability. After you put new work into those old posts, you want people to read them.
Adrienne
and I are here to help you.
Or maybe you have an old post that is already perfect, but it didn't get the attention you hoped when it was first published.
We will help you with that, too.
What goodies do you have hiding in your archives?
What were you doing one year ago this week?
Two years ago? Three years ago?
How has your writing changed?
What experiences have you shared in the past that could spark a wonderful update?
Go through your archives and find an old post that you want to reintroduce to the world. Spruce it up if you want.
Add our button. Link up your post. Visit at least two other links, and leave a comment.
We can't wait to read what the blog world missed.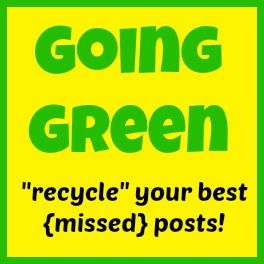 You can also find us on Twitter at @themommymess and @fromtracie, and follow the hashtag #GoingGreen.