The Blog Carnival Against Child Abuse is a monthly event. Its purpose is to raise awareness about the serious issue of child abuse. All forms of abuse (physical, emotional, sexual, spiritual, verbal) are discussed.
Welcome to the Blog Against Child Abuse - September 2013 Edition!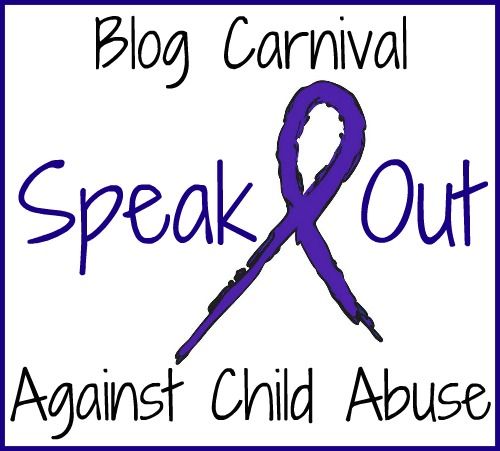 Aftermath:
-
Sandra
from Don't tell... submitted
Capturing the Thoughts
She wrote: In my misery, I can still marvel that one memory can cause a cascade of pointy fragments.
-
David Pittman
from Together We Heal submitted
Waiting To Be Found
He wrote: The loneliest feeling in the world...is waiting to be found.
Healing & Therapy:
-
Paul
from Mind Parts submitted
The Hole Reality
He wrote: After somewhat of a break, I am back to writing on my blog again, writing in a somewhat different voice than I have in the past: with more perspective on what my healing has been about. Thank you to all the wonderful survivors contributing to the collective healing voice we all have!
-
David Pittman
from Together We Heal submitted
You Have Worth And Are Worthy
He wrote: It's an uplifting post for all survivors or for anyone feeling less than worthy of love.
In The News:
-
Mike McBride
from Child Abuse Survivor submitted
Another Convicted Molester gets No Jail Time
He wrote: Let's not assume that all of our efforts to raise awareness of the damage done by child abusers has gone for nothing. There are still other examples where it is making a big difference. These are disturbing stories, but they are outliers.
Survivor Stories:
-
EmmaSurviver
submitted
My Bio
-
iamnotbubba
from Perpetually Healing submitted
Homicide
He wrote: My website is devoted to sharing my story as well as inspiring others to heal and thrive. A way to "redirect the shame" back to the perpetrator.
The Blog Carnival Against Child Abuse provides an opportunity to raise awareness about the serious issue of child abuse and to share important posts with others who might not be frequent readers of an author's blog. There are so many wonderful bloggers who are contributing to the cause of ending and recovering from child abuse. If you, as a reader or author, know of other blogs that you find helpful, please encourage them to submit to an upcoming issue of the Blog Carnival Against Child Abuse so we can continue to receive high quality submissions from a wide swath of bloggers.
Many thanks to all of you who shared your hearts and stories with us, and to all of you who read the submissions and show your support. You keep this carnival, the awareness, support, and healing going each month.
To provide another way for you to stay in contact with the blog carnival, and make sure you don't miss any updates, we have a
Blog Carnival Against Child Abuse Facebook Page
.
Thank you for raising your voice and speaking out against child abuse!