The Blog Carnival Against Child Abuse is a monthly event. Its purpose is to raise awareness about the serious issue of child abuse. All forms of abuse (physical, emotional, sexual, spiritual, and verbal) are discussed.
Welcome to the Blog Against Child Abuse - July 2014 Edition!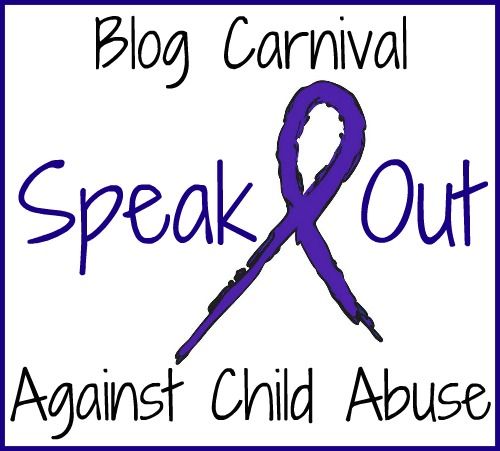 Advocacy & Awareness:
-
Roshni
from Indian American Mom submitted
Sexual Abuse And The Girl Child: An Indian Context
Roshni shares the story of a friend to bring awareness for the sexual abuse that happens, often unreported, behind closed doors in India and around the world.
-
Tracie
submitted
What I Am Not Sharing On Social Media
A look at things I won't share on social media, even when, on the surface, they might seem to be a way to raise awareness about child abuse.
Aftermath:
-
Nicolette
from No Longer Silenced Movement submitted
A Lifelong Journey
She wrote: "No matter where you come from or who you meet, everybody needs a hand sometimes, everybody feels pain, don't assume because a current situation is good, that they didn't endure darkness."
-
Mike McBride
from Child Abuse survivor submitted
How We Make it Harder for Kids to Tell
I just want to jump up and down yelling, "Yes! Yes! YES!" after reading this post. The messages we send with our words about pedophiles can very well help to silence children. We need to provide them with a safe space to tell.
Healing & Therapy:
-
Maggie Jay
from Healing From Childhood Sexual Abuse submitted
What We Think We Know
This is a wonderful reminder of how the small things we can do for one another can make a huge difference in their life and their healing.
-
Mike McBride
from Child Abuse Survivor submitted
Permanent Victim Status
I love this look into what healing and overcoming and surviving look like in Mike's life. He perfectly captured the reasons why, in between everything else I share on my blog, I continue to write about child abuse. It isn't about being stuck in a victim mode.
-
Kate
from Kate Is Rising submitted
A Little Slip of Sunshine
She wrote: "I have often noticed how when I give an accurate assessment/compliment to someone in person they almost always deny or reject it. I've done this as well, and have several times been told that I didn't know how to take a compliment. In deciding to give more honest compliments, to learn how to take a compliment graciously, and to try to come to believe them, I learned a lot about the struggles that we all go through in our own self-perceptions and how inaccurate and loving they can be. This post is my attempt to highlight this issue and to suggest a more loving and healing way to approach giving and receiving compliments."
-
Kate
from Kate Is Rising submitted
Healing Quotes Littles 365-366
She wrote: "I have been using quotes for over fifteen years in my healing process. This post includes two quotes that I have been working on for some time; examining and rejecting the thoughts and beliefs that are negative, unloving, and the result of child sexual, physical, emotional, and verbal abuse. Rejecting the colonization of your mind by abusers is, to my way of thinking, a huge component of healing from child sexual abuse."
Poetry:
-
Kate
from Kate Is Rising submitted
A Child Abused
She wrote: "This poem centered on that moment of being abused and it's aftermath; becoming more than one and my soul making the choice to continue life. I'm most proud of this poem than any other. I think that it describes exactly what our experience was like; becoming more than one and experiencing a devastating psychic wound that could have been insurmountable. In our survivorships, we all have so much to be proud of."
- Kate from Kate Is Rising submitted
Angel Bending Low
She wrote: "I wrote this poem about my connection and belief in the impact of my guardian angel, Simon, in my life. I strongly believe that a connection to someone or something else is essential for everyone. I am strongly other-centered and have always been so, so perhaps my need for connection is all that stronger and I do believe that often that is true for survivors of child sexual abuse. Being willing to explore connections that are not dependent on other people has been instrumental in my healing from child sexual abuse. I believe that everyone has a guardian angel and when I was growing up it was an understood and accepted concept among the adults that I knew. This poem was my way of speaking about the healing and love that I receive from my connection."
********************
The Blog Carnival Against Child Abuse provides an opportunity to raise awareness about the serious issue of child abuse and to share important posts with others who might not be frequent readers of an author's blog. There are so many wonderful bloggers who are contributing to the cause of ending and recovering from child abuse.

If you, as a reader or author, know of other blogs that you find helpful, please encourage them to submit to an upcoming issue of the Blog Carnival Against Child Abuse so we can continue to receive high quality submissions from a wide swath of bloggers.
Many thanks to all of you who shared your hearts and stories with us, and to all of you who read the submissions and show your support. You keep this carnival, the awareness, support, and healing going each month.
To provide another way for you to stay in contact with the blog carnival, and make sure you don't miss any updates; you can like the
Blog Carnival Against Child Abuse Facebook Page
.
Thank you for raising your voice and speaking out against child abuse!