Happiness is.....
Cuddles with my kid while waiting for dinner (that I didn't cook prepare microwave).
A husband who understands that having painted nails isn't enough when you are a kid - they have to sparkle too!
(This is not a Panera Bread commercial, although we did eat there yesterday, and it was really good. Ignore the label and focus on the sparkly nails)
Making Thomas stand by a brick wall while I take approximately fifty pictures.
(see - he doesn't even look annoyed)
A haircut.
And giant green leaves painted on a wall, because that randomness makes me smile.
Happiness is....time spent with family.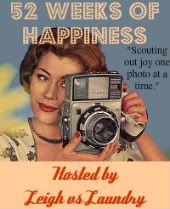 What is making you happy today?