Today is Oreo's 100th birthday. Oreo and I are such close, personal friends. We go way back (not quite 100 years back - I'm not that old). Everyone lift up a glass of milk (except I have a glass of water, because I don't drink milk), and join with me in saying, "Happy Birthday Oreo!!"
After all the Oreo updates and celebrations I saw online all day (yes, I'm looking at you and your double stuffed Oreo love
Beth
), I was seriously wanting some Oreo cookies.
Thomas must have been reading my mind while he was at work, because he came home with this:
Not just Oreos, but Yellow Oreos!
This is cookie perfection, and it is making me very happy!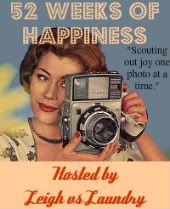 What is making you happy today?
*Oreo in no way sponsored this post full of cookie love. Which is good, because it is kind of hard to collect payment from a cookie after you have eaten it.