Some random Tuesday happiness from my world.
A package arrived in the mail a couple of weeks ago with all these fun things (from my
sweet friend and bandmate
), providing us with hours of happiness.
One of the happiest things in the world is a brand new box of crayons, all the tips nice and pointy, just waiting to color (or colour, for all you Canadians).
Coloring makes me happy. It makes Katarina happy, too.
Today is the birthday of my special friend and wondertwin Megan (no link, because she doesn't blog anymore - y'all are missing out on her greatness). Just for her, I have a bit of
yellow joy
in the form of a giant, yellow Candy Land game piece. Happy birthday Megan, you make me happy every day.
One last thing making me happy...
Taking silly pictures with my family while cuddling up for a movie night.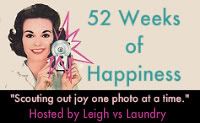 What is making you happy today?